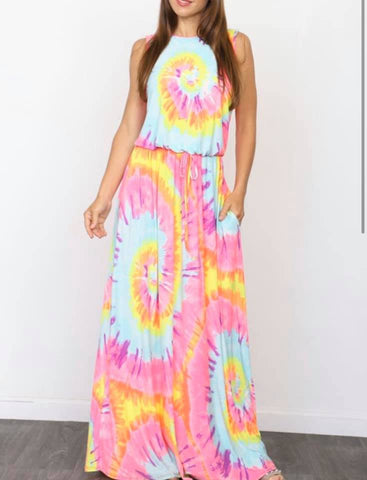 Tie Dye Maxi
Please do not combine in stock items with preorders.
This adorable tie dye maxi is available for preorder now! And..... pockets!!!!!
Preorder close date:  5/6/20 at 6PM EST, or once pack sells out 
ETA to me: Late May 
Length of small:  58 inches
Sizing: Small (0-4) Medium (6-8) Large (10-12) XL (14-16) 
Material:96% polyester 4% spandex

Fulfillment and shipping information:
CUSTOM products take approximately 6-8 weeks to be created, finished, and shipped to us.  Please keep this in mind when ordering! 
Other shipments typically arrive at our warehouse approximately 2 weeks after our "preorder close date", but can take up to 4 weeks during busy times of production. Once we are in receipt of our shipment, an additional 2-3 business days are needed for fulfillment and shipment. Shipping times may vary depending on shipping zones and shipping exceptions (i.e. holidays, weather, etc.).
Customers local to Jupiter, FL, enter "LOCAL" at checkout to pick up in person. Local orders will need to be picked up within 72 hours of delivery notification through email. Otherwise, free shipping is not eligible on this item;  customers will be invoiced separately for shipping at time of fulfillment. (** Wholesale pricing AND free shipping cannot be combined, except local pick up customers**)