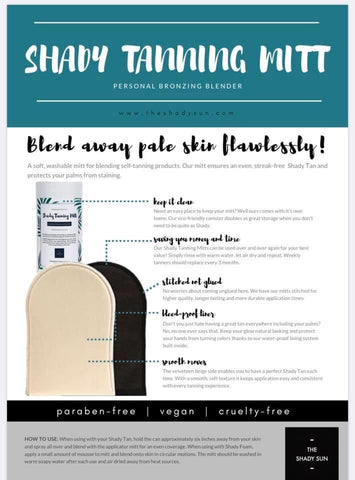 Self Tanner Mitt {Pre-Order}
A soft, washable mitt for applying self-tanning products. Our mitt ensures an even, streak-free tan and protects the palms from staining.So what can you expect? + Velvety felt fabric effectively distributes tans evenly + Sewn edges for durable construction + Inside liner to protect product bleeding onto hands + Rinse with water & let air drying to keep your Mitt clean & reusable 
How to use
When using with your Shady Tan Can, hold the can approximately six inches away from your skin and spray all over and blend with the tan side of the mitt for an even coverage. When using with Shady Sphere or Foam, apply small amount of gel to mitt and blend onto skin in circular motions. The mitt should be washed in warm soapy water after each use and air dried away from heat sources.
Fulfillment and shipping information:
Shipments typically arrive at our warehouse approximately 2 weeks after our "preorder close date", but can take up to 4 weeks during busy times of production. Once we are in receipt of our shipment, an additional 2-3 business days are needed for fulfillment and shipment. Shipping times may vary depending on shipping zones and shipping exceptions (i.e. holidays, weather, etc.).
Customers local to Jupiter, FL, enter "LOCAL" at checkout to pick up in person. Local orders will need to be picked up within 72 hours of delivery notification through email. Otherwise, free shipping is not eligible on this item;  customers will be invoiced separately for shipping at time of fulfillment. (** Wholesale pricing AND free shipping cannot be combined, except local pick up customers**)